One in 10 people go hungry – that is currently up to 828 million people worldwide. And the trend is rising. These latest figures from the Food and Agriculture Organisation of the United Nations (FAO) on the world food situation underline our findings in this Sufosec Alliance Food Report.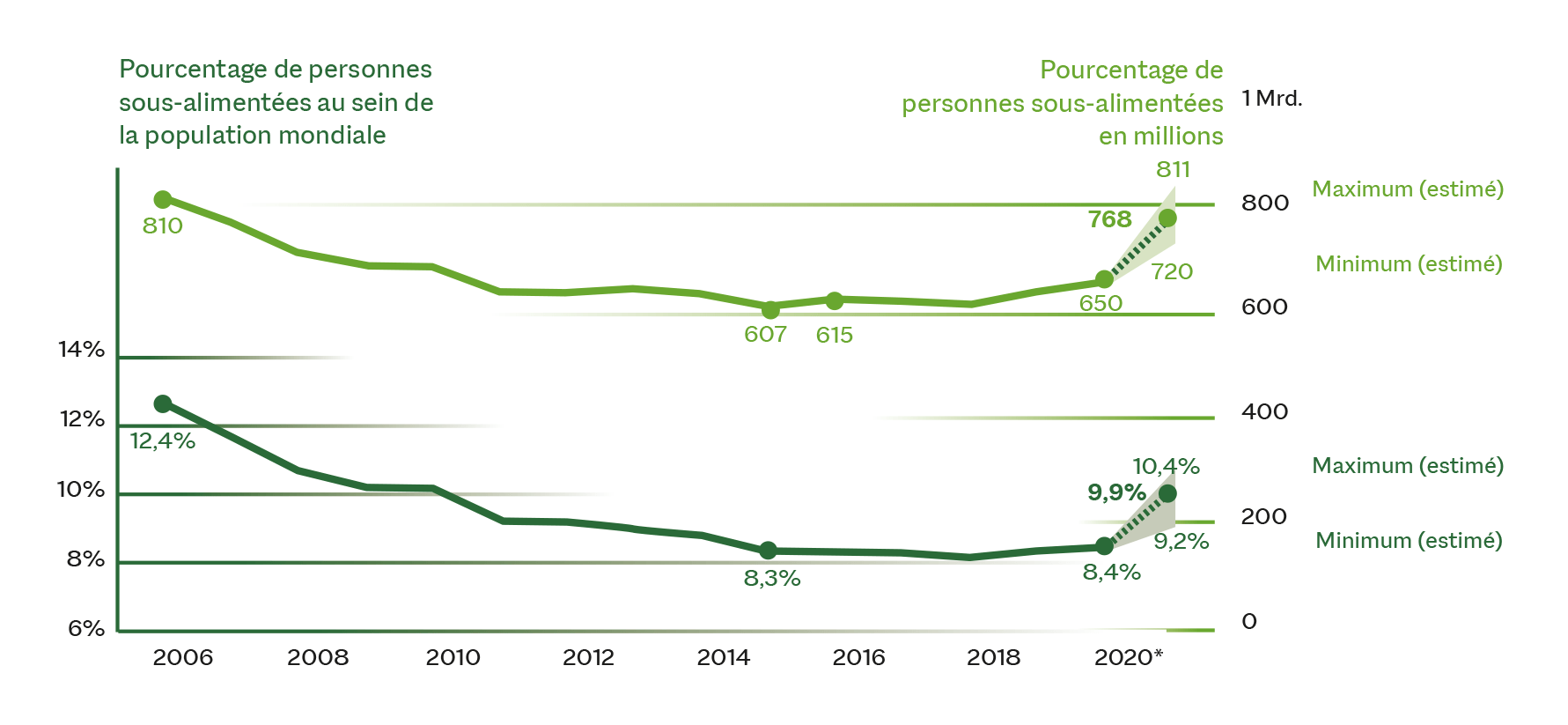 The 2021 Sufosec survey of 14,000 households in Asia, Africa and Latin America revealed shocking results: One in four households was affected by hunger and two in three had limited access to food. Goal number 2 "Zero hunger" of the United Nations 2030 Agenda seems a long way off.
Learn more about the Sufosec Report
Hunger and malnutrition affect more women
When food becomes scarce, it is women who are the first to go without food, often having to make do with their children's and husbands' leftovers. The FAO estimates that ten percent more women than men are affected by hunger and malnutrition. Furthermore, the uniformed food system does not accommodate women. Their nutritional needs are different from those of men or children. It is therefore not surprising that around 571 million women worldwide are affected by anaemia. A clear consequence of inadequate nutrition.
The war and hunger
With your help, we can promote local agricultural production chains and strengthen local seed systems to make farmers less dependent on purchased seeds and external factors such as wars and climate. Your donation makes sense!
Crises as drivers of the hunger crisis
Climate crisis, pandemic, wars – these are the accelerators of the current hunger crisis. Food speculation, which repeatedly leads to price explosions, is also partly to blame for hunger and malnutrition. The climate crisis with its consequences and the associated loss of biodiversity as well as the lack of land for food cultivation are further drivers of the dramatic hunger situation.
First promising results
The global hunger situation is critical. But the first results of the Alliance's engagement give cause for optimism:
850'000 people benefited annually from humanitarian aid
8,300 families were able to feed themselves sufficiently, sustainably and healthily each year
291'000 households use at least one agroecological farming method
52'000 households more are using agroecological farming methods each year
The risk of people in the project areas suffering from hunger or malnutrition has fallen by 16 percent since 2020.
Agroecology as a solution in the fight against hunger
The report shows that agroecology is the right approach to improve access to sufficient and healthy food while protecting our planet in a sustainable way. The environmentally friendly approach relies on short distances, farmer-grown seeds and farming methods adapted to local conditions for greater resilience to climate change. Agroecology provides people with a stable and equitable income and promotes the autonomy of local communities.
Discover how agroecology has changed the lives of several communities in India.
An ambitious goal
The road is long, but the motivation of the Alliance partners remains unbroken: By 2024, the alliance wants to reduce the number of people going hungry in the project areas by 20 percent. Thanks to sustainably produced and sufficiently available healthy food.
The goal is big, but we can do it – together with you, politics and business, we can fight hunger and sustainably achieve the UN goal of "Zero hunger" by 2030.
Sufosec Alliance
The Swiss Alliance for Sustainable Food Worldwide is an alliance of six Swiss NGOs with the goal of permanently overcoming global hunger. Together, the organisations join forces, create synergies and benefit from the existing expertise of the individual organisations.
Learn more about Sufosec on their webseite