In February, parcels of highly nutritious seeds were distributed to farmers in 10 rural communes in southwest Niger. This was a first measure against the acute famine caused by the drought and the catastrophic harvest at the end of the year.
"The drought has brought my household to starvation. We didn't have a good crop, and I couldn't feed my children," recalls 51-year-old farmer Zeinabou Danboye. Particularly in need, this mother of 9 children was selected to benefit from the emergency aid. She is one of the 66'000 people supported by the project since the beginning, in December 2021.
The food and seed kit from SWISSAID has helped us a lot, with last year's poor harvests due to climate change.
Zeinabou Danboye, 51 years old, mother of 9 children, farmer in the village of Kiéché.
Hunger crisis in Niger
With 90 francs, one person receives three vouchers to buy enough regional and quality seeds at a seed fair. In doing so, you donate nothing less than a way out of hunger for a family.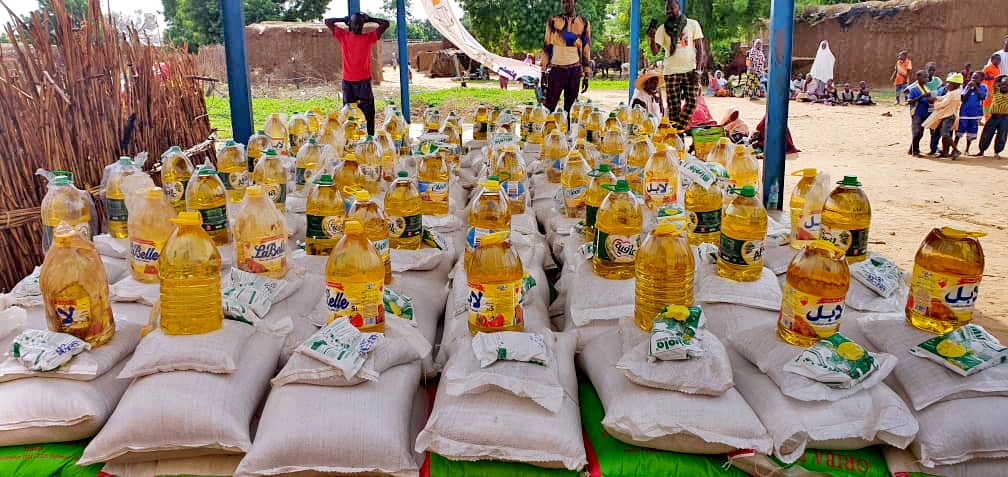 The packages contained, among other things, amaranth – a fast-growing plant (3 weeks) that is very nutritious and requires little water – as well as okra, cabbage, moringa and lettuce seeds. All of these seeds are adapted to both the winter and summer dry periods, so that farming families can produce until just before the rainy season. Shortly after planting, families could already harvest for their own consumption. Food packages were also provided to complement this assistance. Coupled with the various varieties distributed, the packages allow poor families to last until the end of September, when millet, the staple food in Africa, is harvested. "I received a coupon worth 18,000 FCFA. I was able to buy millet and cowpeas that I had already sown. After that, there was the distribution of food packages. I received 25 kg of rice, 25 kg of cowpea, 5 kg of salt and 5 l of oil. I had food at home and I even shared with my neighbors who did not benefit from SWISSAID's aid," she explains with relief. Like Zeinabou Danboye, many people expressed their gratitude for the timely assistance.
When the food packages were distributed, we had not eaten for days. I am so grateful to SWISSAID!
Rakia Magaji, 55 years old, 6 children
Before the seed distribution, we were in a difficult situation. We could not feed our children properly. With moringa, for example, we can prepare food for the whole family. We also sold part of the harvest to buy poultry and clothes for our children.
Zalika Tahirou, center, beneficiary of the Fabidji commune
Short-term thinking with a long view
In addition to covering immediate needs, the aid also helped prepare for the next harvest by raising awareness among farmers of the benefits of resistant and nutritious seeds. To this end, a seed fair was organized in May. It allowed to make known neglected and under-used seeds such as moringa, voandzou, taro or cowpea that SWISSAID wishes to revalorize among the peasant communities. "We have replaced the potato crop with moringa, which is more resistant to climatic conditions and allows families to be fed. Some people have acquired goats with the income from the crops. In addition, the sales allow women whose husbands are not present to provide for their children," explains Moussa Garba, a beneficiary from the commune of Fabidji. Thus, the emergency project has made it possible to initiate a change in farmers' attitudes and practices; to stop growing conventional plants that impoverish the soil and are unsuited to the local climate.
The authorities have also seen the urgency of moving away from conventional seeds sold by large companies. "The population must know that we are at a time when everyone must sow improved seeds that are adapted to the climate," insists Amadou Sabo, chief of the Arewa canton. Abdou Magoudou, a farmer, backs him up: "Farmers are still using the same seeds even though the environment is changing. We are calling on farmers to mobilize and get the best seed varieties. This way, they will be better prepared for the coming season." Thus, used wisely, the disaster announced at the end of 2021 is transformed into an opportunity to face not the emergency but the long-term climate change.