Ecuador, 7th August
Innovation in times of crisis
After months of containment and the shutodown of conventional production systems, Ecuador has had to reinvent itself. In order to replace the now prohibited markets in the Guranda region of Bolivar province, SWISSAID Ecuador has signed an agreement with the universities to use their infrastructure. On the premises, workers assemble baskets of fruit and vegetables from the surrounding agro-ecological crops. The baskets are then sold to the university employees.To avoid shortages in the cities and the countryside, greenhouses are also adapted for short-cycle production. In this way, farmers can schedule production and thus always have ready seedlings and harvests at their disposal.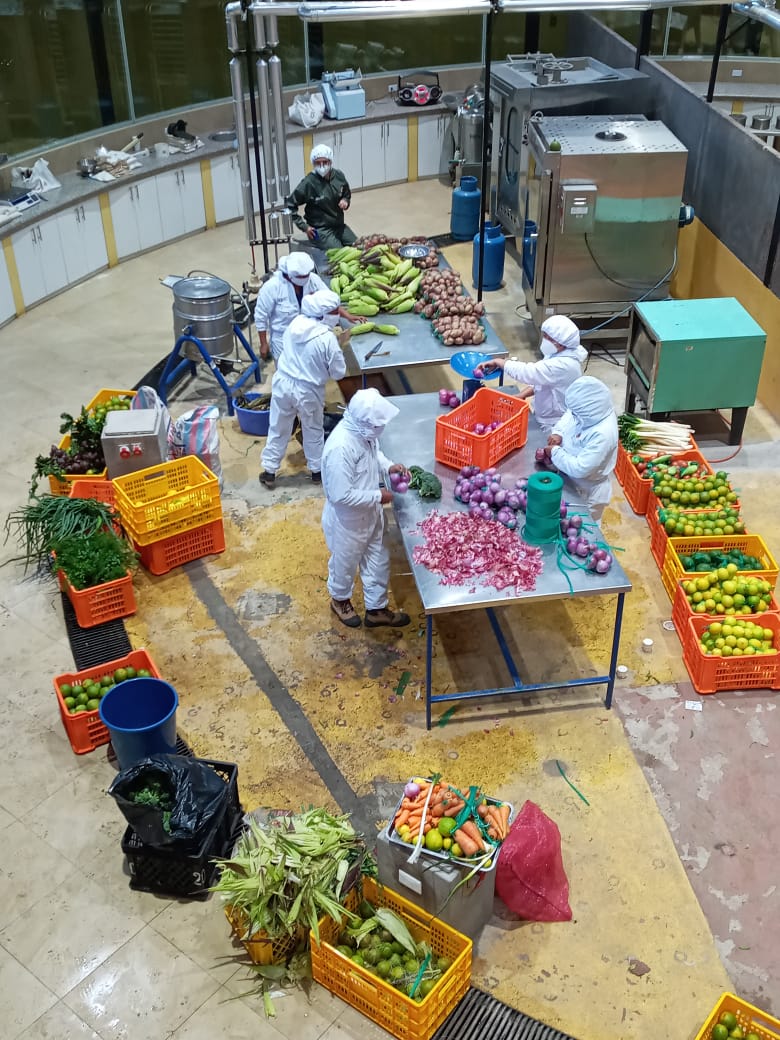 Guinea-Bissau, 4th August
food security thanks to poultry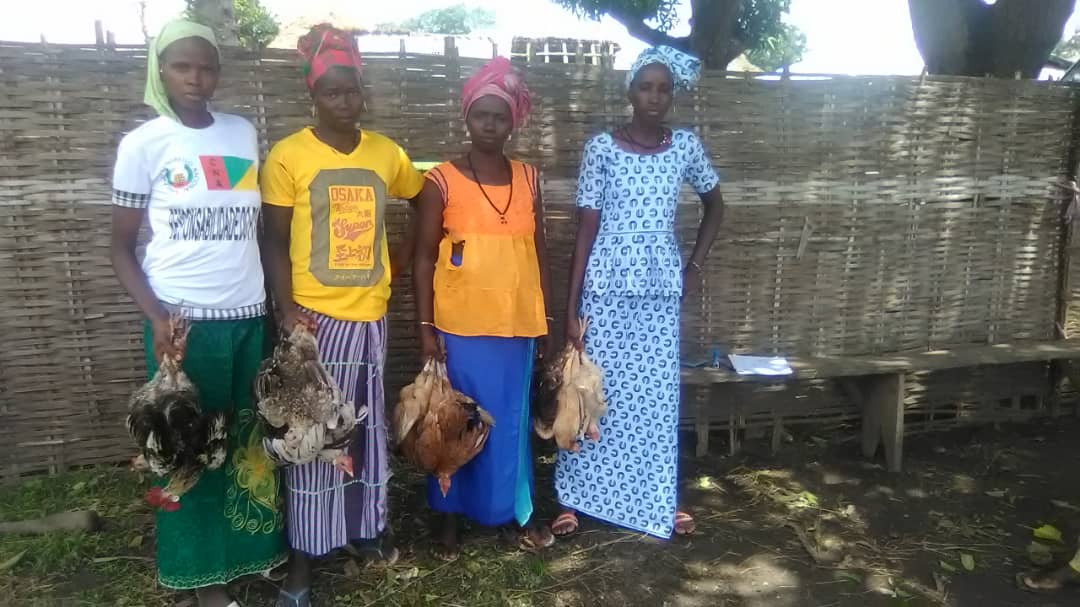 SWISSAID Guinea-Bissau and its local partners focused on the food security of the people supported by the projects. Among the various measures implemented, the organisation Sahel 21 was responsible for distributing laying hens – two hens and a rooster – to the most needy people. Based on precise criteria, this activity targeted female-headed households, which are even more severely affected by the crisis. In particular, women in rural areas, who generally have little or no income, very limited savings and high recurrent expenses; women with several children, those who lost their jobs due to the pandemic; households with children under 2 years of age who suffer from malnutrition; families of the elderly without young people in the family aggregate; widowed or divorced women; families with disabled or sick people.
Farm poultry farming is an excellent way to strengthen the food security of these women and their families. In addition, the project provides start-up feed for three months. This assistance will enable families to produce eggs for their own consumption, increase their protein ration and sell or exchange the surplus on the local market.
Ecuador, July 30th
Infections increasing but no quanrantine expected
Since the coronavirus quarantine measures were relaxed at the beginning of June, Ecuador's capital Quito has faced an exponential increase in the number of infections and deaths. The health system is on the verge of collapse. There is also a lack of information on the infection rates in rural communities, which makes it impossible to assess the situation as a whole. However, out of concern for the economy, which is already severely weakened by unemployment, no new curfew is planned.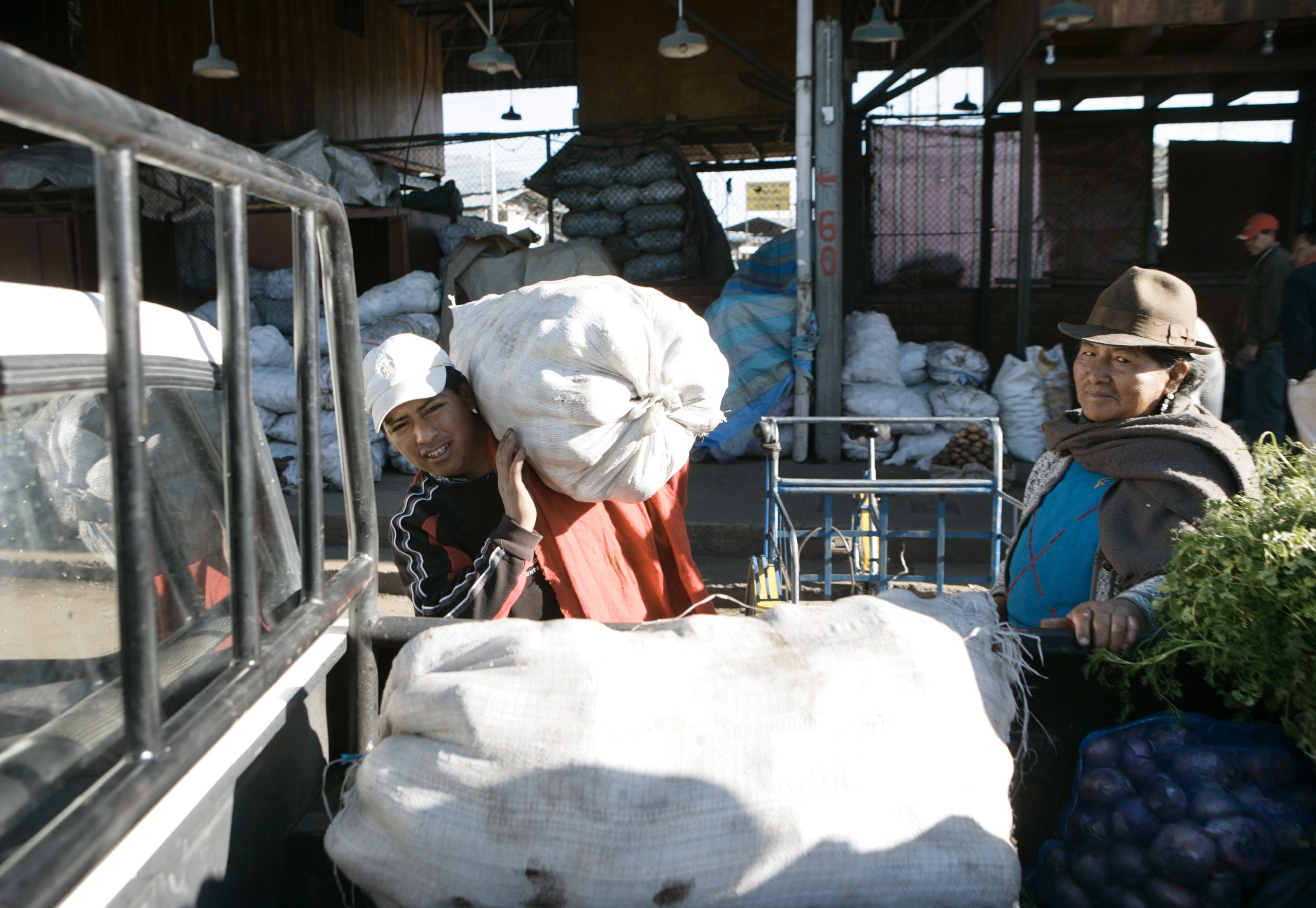 Solidarity makes us strong
Solidarity connects people all over the world - especially in difficult times it makes us strong. Thanks to your support, we can continue to do important work in our partner countries during the Corona crisis.
Chad, 27th July
youth fighting against Corona
The ONRT (Office National de Radio Télévision Tchadienne) was present at the launch of the emergency project COVID-19 supported by SWISSAID. As part of this project, young Chadians in an association are travelling through the province Logone Oriental to raise awareness among the inhabitants of the province of Logone Oriental about the barriers against the coronavirus. With the support of the local authorities, the Association des Jeunes Tchadiens de la Zone Pétrolière (AJTZP) has made hydroalcoholic gels, soaps, masks and pumps available in public and private areas.
Chlorine to purify water
Ecuador, July 9th | In Ecuador, during the coronavirus crisis, SWISSAID is providing chlorine and technical assistance for the maintenance of 31 community drinking water systems, benefiting 18,300 people in rural and indigenous communities.
India, July 22nd
Lockdown and uncertainty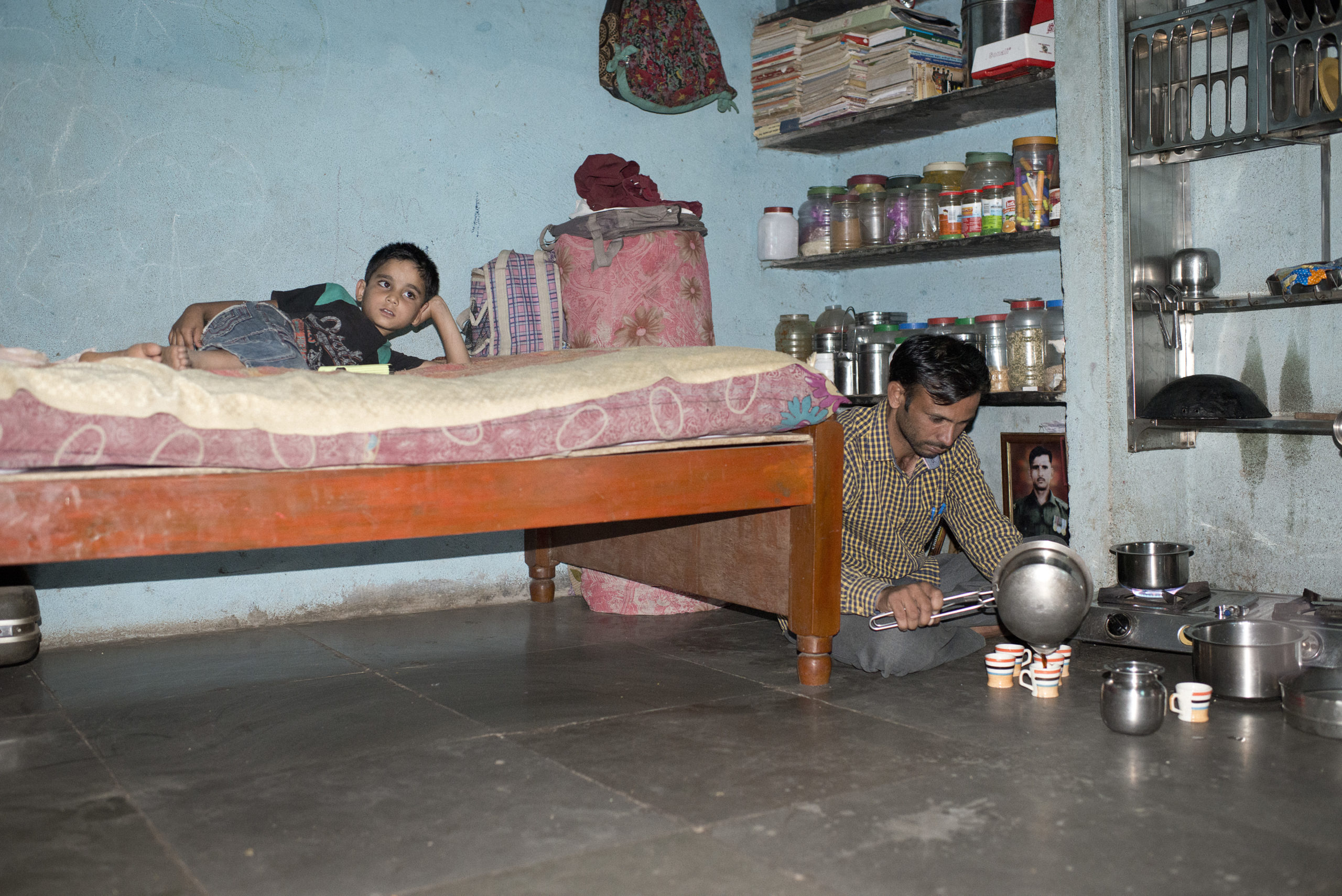 While the corona situation in Switzerland has on the surface somewhat settled down, the situation in India is alarming. In the West Indian city of Pune, up to 1500 new infections and more than 25 deaths are reported daily. Hospitals are full and patients are put on waiting lists. Insecurity and fear dominate as the inhabitants are no longer allowed to leave their homes. After a short opening period, all shops had to close down again, including small grocery stores, which fear for their existence.
Chad, July 20th
Examinations in complete safety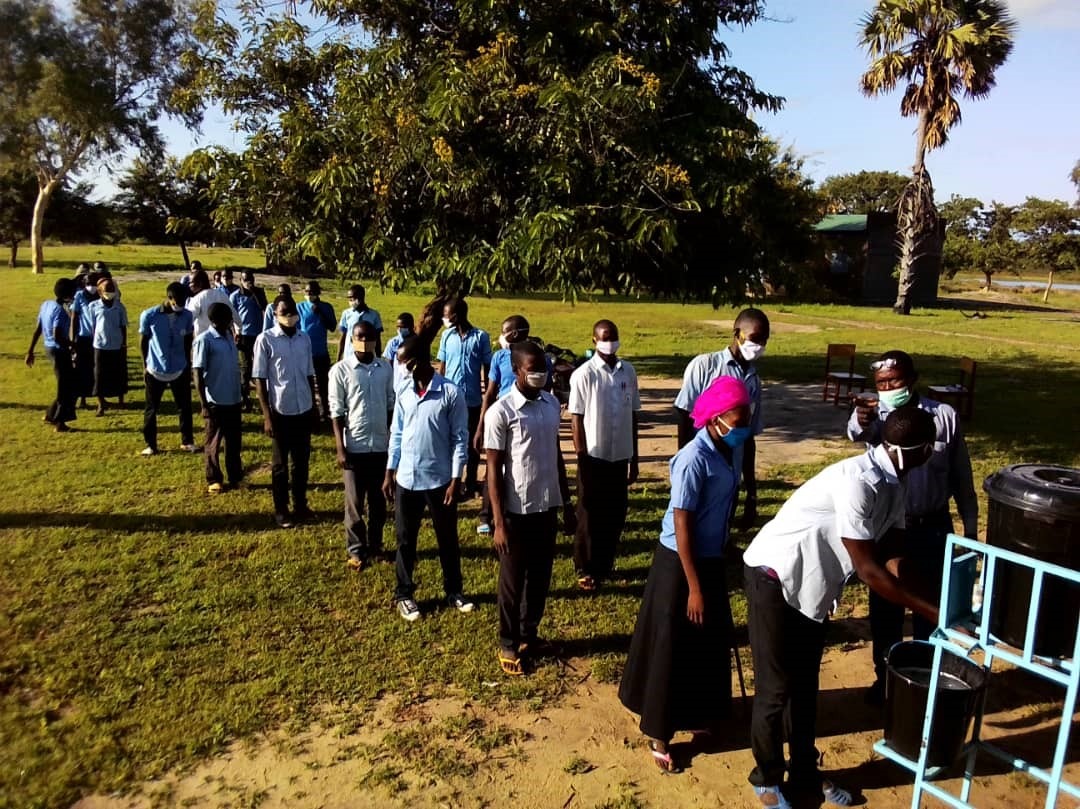 Students from Donia High School in Chad went to the examination room in peace. Applying the required social distancing, they lined up to wash their hands before entering class and taking their exams. The hygiene kit was donated by SWISSAID as part of its emergency projects to combat the spread of the coronavirus.
Soap manufacturing for Andean communities 
Ecuador, July 9th | In order to protect itself from coronavirus, SWISSAID in Ecuador is organising workshops for making soap with local plants. Each community has selected young people to learn how to make soap. Each of them takes then their knowledge back to their community. In this way, the risk of infection is minimised.
Guinea-Bissau, July 7th
"SWISSAID is the only support we've recieved"
Guinea-Bissau television reported on the help SWISSAID is giving to the rural population within the country. The project to strengthen the resilience of women market gardeners in peri-urban areas during the period of the coronavirus provided assistance to 80,000 people and monitored the delivery and marketing of agricultural products. The partners and beneficiaries testify to the valuable assistance provided.
India, July 2nd
Restart of the national MGNREGA programme
In India, the "Mahatma Gandhi National Rural Employment Guarantee Act" (MGNREGA) guarantees the poorest people 100 days of paid work per year (e.g. road construction, infrastructure projects, etc.). With the outbreak of the coronavirus, the programme was stopped, with devastating consequences for thousands of workers: they were left without income from one day to the next.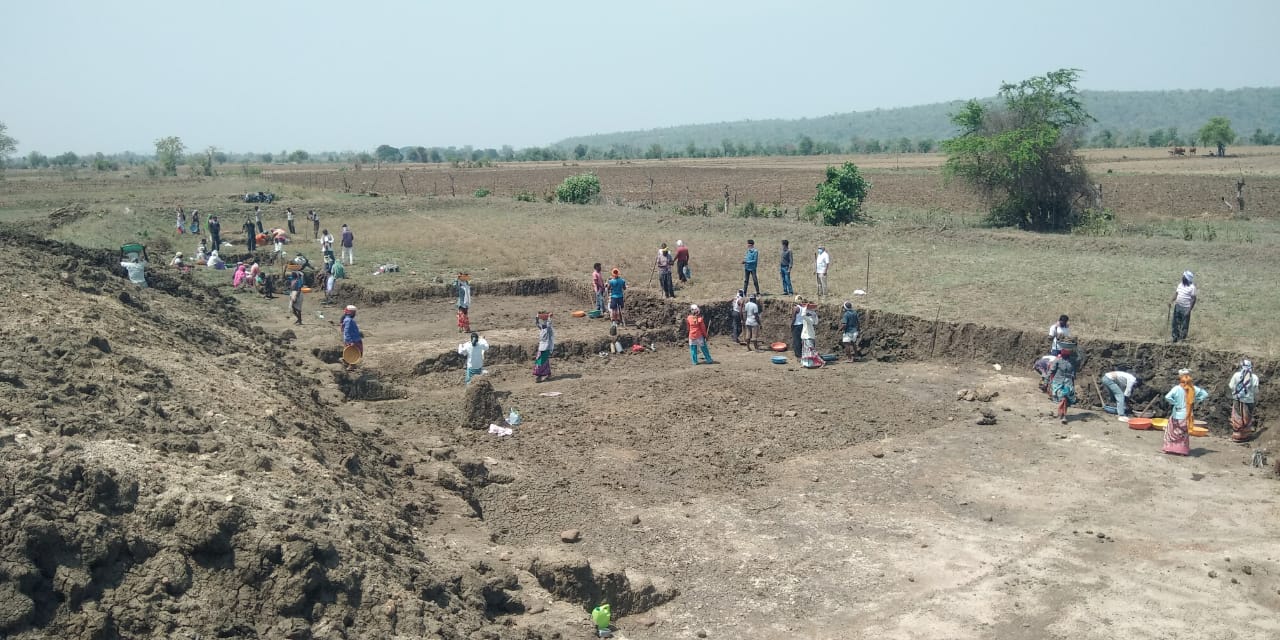 Recently, the government has allowed the MGNREGA programme to resume work, provided that social distancing is respected. It is the responsibility of the local government in each region to implement this measure so that workers can resume their activities and families can once again benefit from the income. In order to facilitate and, above all, speed up the resumption of activities, SWISSAID's partners on the ground have endeavoured to work together with the administration to ensure that hygiene measures are put in place and work is resumed. The villagers have been supported in applying for work and can now work in the construction sites in their region. The relief of receiving an income and being able to provide for their families is huge.
Niger, June 29th
How to protect one's self from coronavirus?
SWISSAID Niger and the "Réseau des Journalistes Eau et Assainissement" (REJEA) are continuing their efforts to stop the spread of Covid-19 in Niger. This poster, which describes the right steps to take, is being distributed to all the rural populations supported by SWISSAID in Niger. Unfortunately, these people do not always have access to information and are therefore more at risk.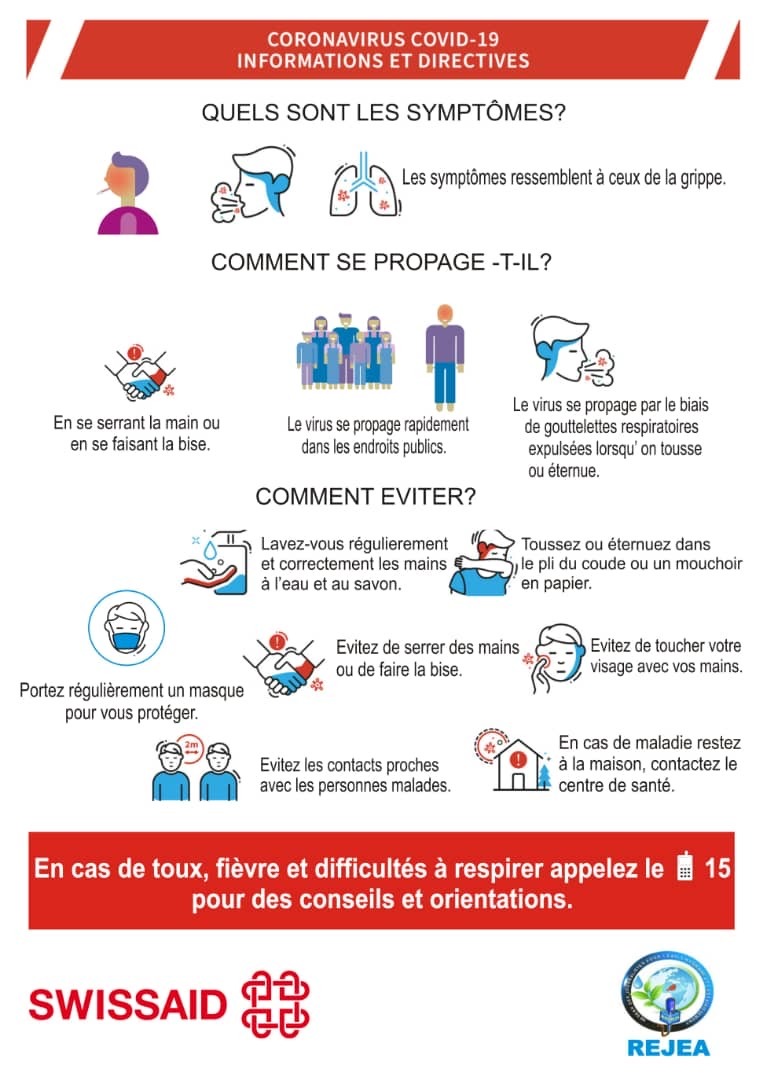 Guinea-Bissau, Niger, Tanzania, Chad, June 25th
Emergency aid for over 300'000 people in Africa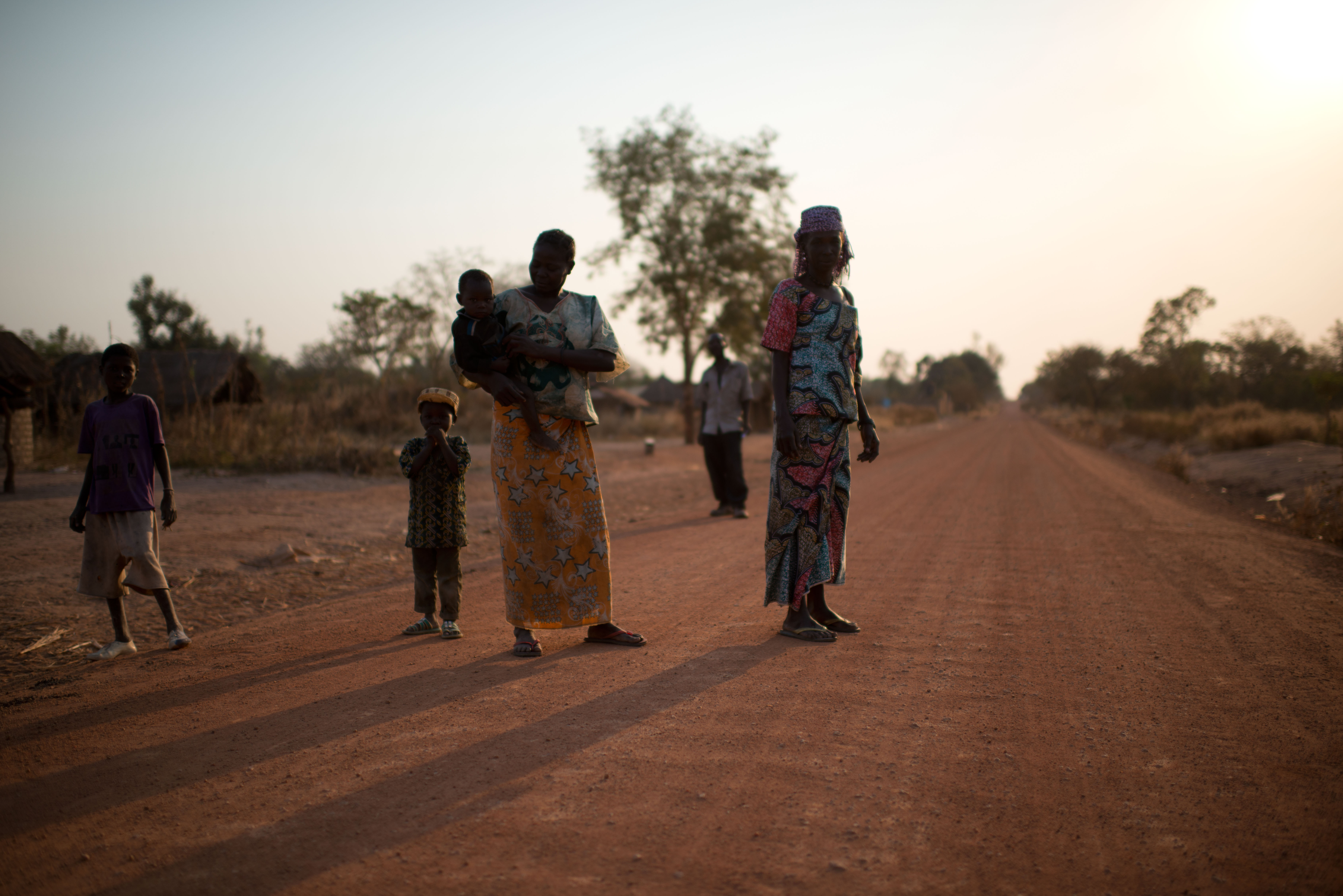 At the SWISSAID Foundation Board meeting in Berne in mid-June, the country representatives reported on the current situation in their countries. Within a very short time, emergency aid projects were launched for the rural populations in the fight against the corona virus. With 125'328 people in Chad, 50'000 in Tanzania, 52'629 in Niger and 79'975 in Guinea-Bissau, people in Africa receive the most emergency aid. In all four countries more than half of the beneficiaries are women.
Ecuador, June 24th
Emergency aid project is progressing
Resources and support provided by the Ecuadorian government to fight the pandemic are primarily concentrated in the cities. This is where the population density is the highest and a large part of the medical infrastructure is located. In the rural areas, especially those in which SWISSAID is carrying out projects, it has only been possible to respond to the pandemic with inadequate infection prevention.
SWISSAID Ecuador is therefore now launching the dissemination of information, such as radio spots or posters, which point out hygiene measures in Quechua language. This was needed because the official prevention measures are only published in Spanish. In addition, the communities are being supported in securing their chlorine supplies so that good water quality can be guaranteed.
As a further immediate measure, workshops have been developed in which the production of soap using vegetable ingredients is taught. SWISSAID Ecuador has published video instructions on how to make soap, so that the knowledge disseminated in these training courses is accessible to the widest possible audience.
Myanmar, June 19th
Women, small farming families and migrant workers need support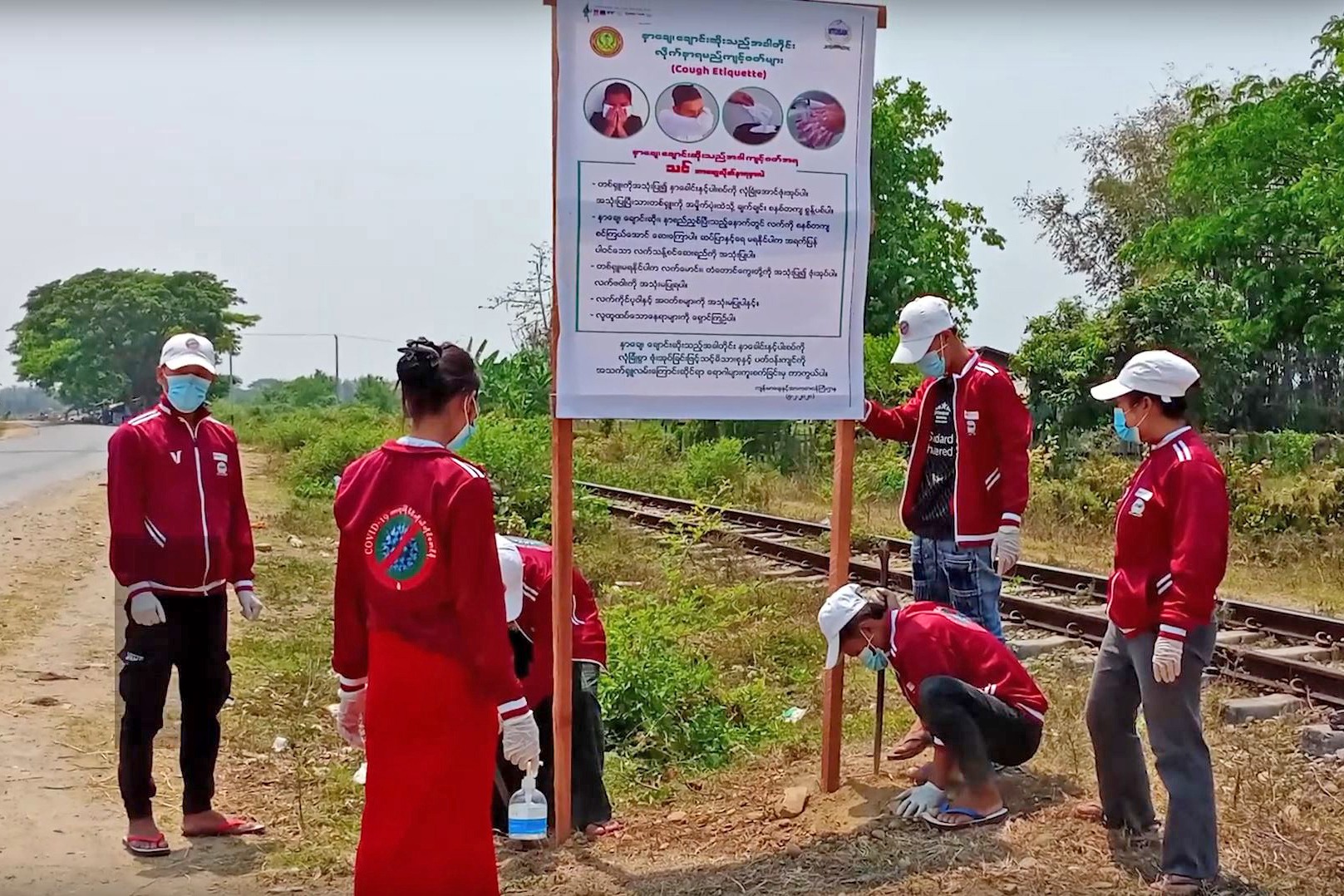 Measures are needed in Myanmar to reduce the further spread of coronavirus. It is also crucial that small farmers are able to carry out their work and that social protection for disadvantaged population groups is maintained.
SWISSAID has decided to address these points in a new emergency aid project. In order to achieve the objectives of this project, we are supporting our partner organisations on the ground. Their proximity to the beneficiaries enables them to act quickly and in a targeted manner.
The population groups supported are vulnerable and marginalized groups, such as migrant workers returning from the cities to the villages to join their families, households that no longer have access to money, casual workers who have lost their jobs, small farming families and women from poor households.
The partner organisations each support the population in their own field of expertise:
Increase of material to prevent the further spread of the coronavirus (awareness raising through brochures, posters, campaigns, social media, distribution of hygiene articles, support for community soap and mask production)
Supporting municipal quarantine centres for returning migrant workers
Supporting activities that ensure access to information and necessary assistance for women who have to take care of the household and sick persons
Food distribution and remittances
Distribution of agricultural equipment for small farming families (seeds, natural fertilizers, etc.)
The work of the partner organisations is monitored and it is ensured that the training and equipment necessary for safe, coordinated and effective project work is provided. Close cooperation with local authorities is also maintained and civil society networks are used.
India, June 16th
"I don't know if the families would have survived"
For the past few weeks, almost all the staff of the SWISSAID emergency project in the Marathwada region of India have been on the ground distributing food and seeds to people in need. Time is running out for people who are more vulnerable than ever.
Last week, food was distributed to 1735 selected families who urgently needed the ration. "I don't know how they could have survived in such a critical situation without this support, explains Sneha Giridhari, SWISSAID's gender specialist in India. Normally, the other villagers support them, but now everyone is more or less in difficulty."
The involvement of the community kitchens, which provide prepared meals for the elderly and disabled, is also proving extremely useful. In addition to food distribution, seed distribution will start in one or two days. The lack of liquidity in many households often prevents the purchase of seeds. With the monsoon season fast approaching, it is of utmost importance that farming families receive seeds and prepare their fields in good time.
The beneficiaries of this emergency project were selected by the partners in a strict, transparent manner and with the participation of the community. "We are therefore convinced that SWISSAID's support is aimed at the neediest and most vulnerable families, single women and migrant workers," reports Sneha Giridhiri.
Maya Jedage, Dhangarwadi village, Osmanabad district
Maya, a single woman farmer with a small piece of agricultural land: "The coronavirus pandemic and the lockdown have put me in a miserable situation. Being left cashless, I am unable to prepare for the rainy season crop." Hence, under the SWISSAID relief project, she will be getting support for seeds and the land preparation for sowing.
Mahadevi Dode, Gulhalali village, Osmanabad district
Mahadevi is an elderly and disabled woman who lives alone. Because she is not able to cook for herself, a food ration would have been useless for her. Therefore, she receives a meal twice a day from through the community kitchen intervention under the SWISSAID relief project
Ecuador, June 11th
What if the crisis is also an opportunity?
Covid-19 has led to the preventive isolation and alienation of people around the world, in both urban and rural areas. Ecuador makes no exception. However, most resources and government support were concentrated in the country's major cities.  
In the rural sector, especially in the regions where SWISSAID is active, the health crisis has highlighted the harmful dependence of farming families on industrial agriculture. With 90% of the seeds in Ecuador being imported and a large proportion of the agricultural inputs produced abroad, families who do not produce their own seeds or use chemical products find themselves in great food insecurity.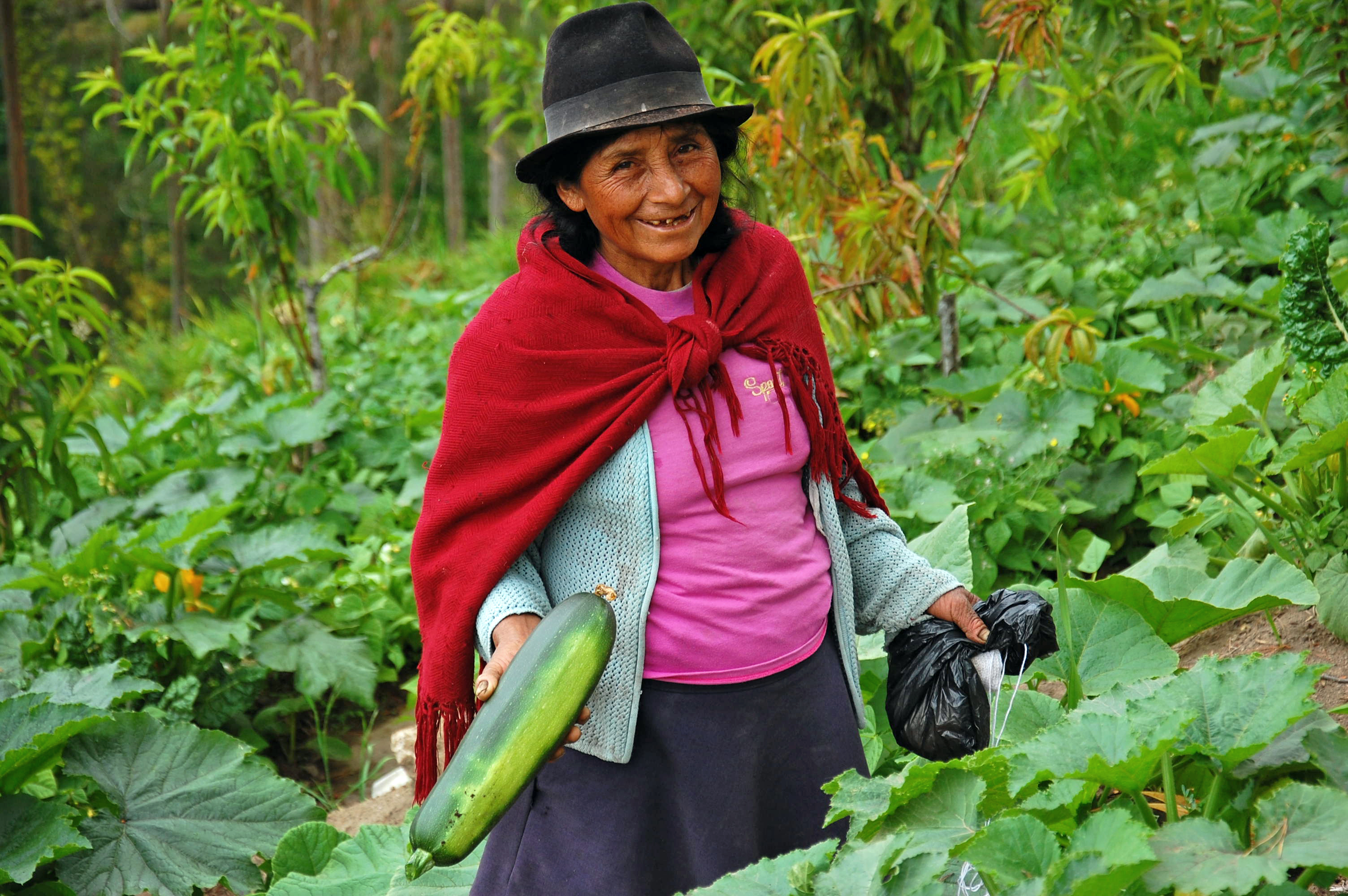 SWISSAID Ecuador has set up a project to support farming families in the Andean municipality of Guangaje during the crisis. It is aimed not only at families who see the benefits of agroecology and wish to make an agroecological transition, but also at families struggling to sell their production due to reduced mobility in times of confinement.  
The emergency project targets 1124 people – 1012 women and 112 men – or 14% of the total population of the rural municipality of Guangaje. In each community, small community greenhouses are set up for the production and supply of seedlings. Each micro greenhouse has a production capacity of 4500 plants per production cycle every 15 days, which means faster growth in these high-altitude areas (3500 m and above). The plants are then distributed among the families. Local seeds will also be offered to people wishing to initiate or strengthen the reproduction and dissemination of indigenous seeds. Finally, in order to diversify the food of the local populations and to sell the products, exchanges of products have been organized between the coastal and the Andean communities. 
Chad, June 9th
Rising prices for an ever poorer population  
In Chad, the virus – and the resulting containment–  continues to have a negative impact on the population. The prices of staple products such as rice, onions and soap have risen sharply. The table under compares prices in N'Djamena before and after Covid-19. Scaring rates for one of the poorest countries in the world, where the population has temporarily had to suspend all its activities.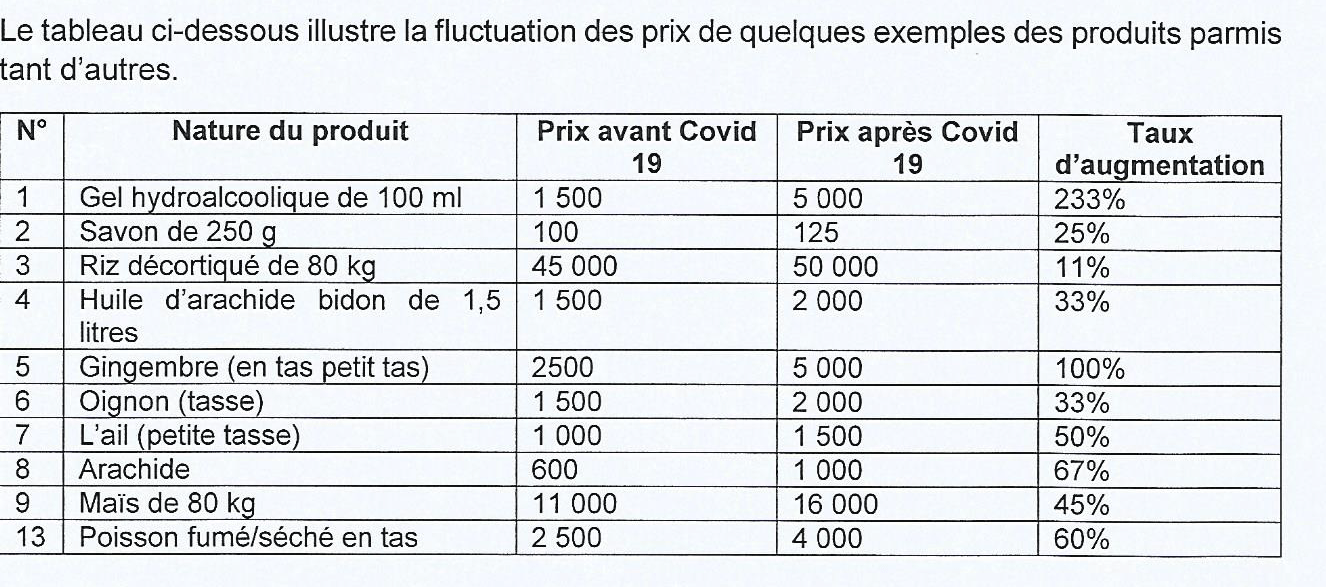 Nicaragua, June 8th
Agroecology, a solution to the pandemic?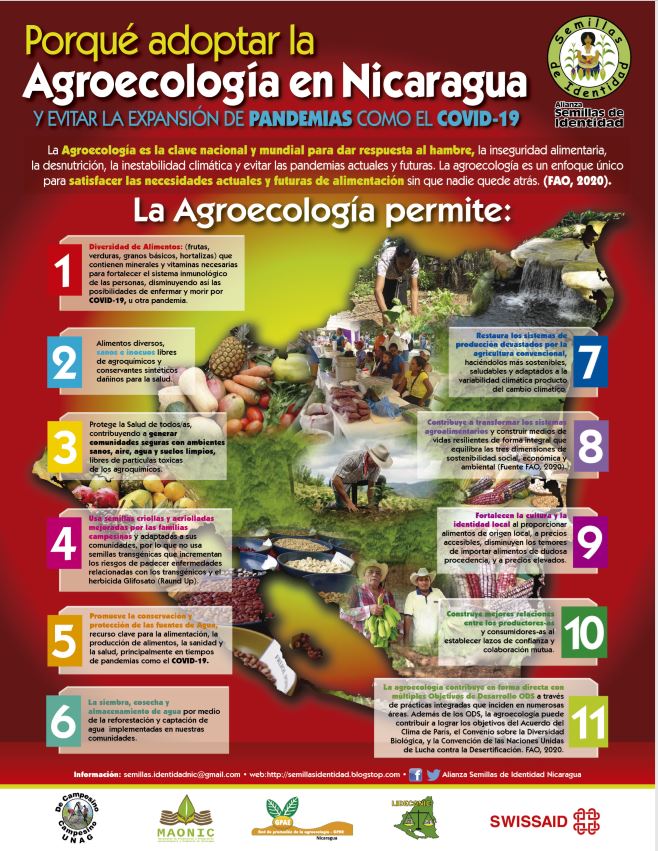 Could agroecology be the answer to the current coronacrisis? At least in part. Among many environmental, population and health benefits, this technique allows the production of a variety of foods that improve the immune system, and promotes the conservation and protection of water sources essential for the health and hygiene of populations. The best weapons against the virus.
This is why SWISSAID in Nicaragua and the association "Semillas de Identitad" have created posters based on information from the FAO to raise awareness of agro-ecology as "a national and global key against hunger, food insecurity, the climate crisis and the current and future pandemic".
Read about the wake-up call for local and sustainable food systems in time of coronavirus.
Colombia, June 4th
Food aid for isolated communities and support for victims of domestic violence
While Switzerland is increasingly returning to everyday life, many countries around the world continue to fight the coronavirus pandemic at the limit. In Colombia, the daily number of new infections is in the four-digit range, and a total of around 35,000 cases are known to date.   
The municipality of Bahía Solano, located on the Pacific coast of Colombia, is also affected by measures against the pandemic. Although no cases have yet been reported in the region, the government has closed public facilities and restaurants and banned the arrival of aircraft and boats. The majority of the population works in the informal sector, mainly in agriculture and tourism – only 8% have a fixed salary. Overnight most of the inhabitants had no income and thus no money to buy food. The need of many families is great.
"Before curfew I sold four to six portions of bananas for 45'000 pesos a week, today I sell two portions for 38'000 pesos. Our weekly income has shrunk from 270,000 pesos to 76,000 pesos," explains Carlos García, a farmer from Rio Valle. The whole economy has come to a standstill, the products can no longer be sold to restaurants, there are no tourists buying local sweets, no boats exporting bananas.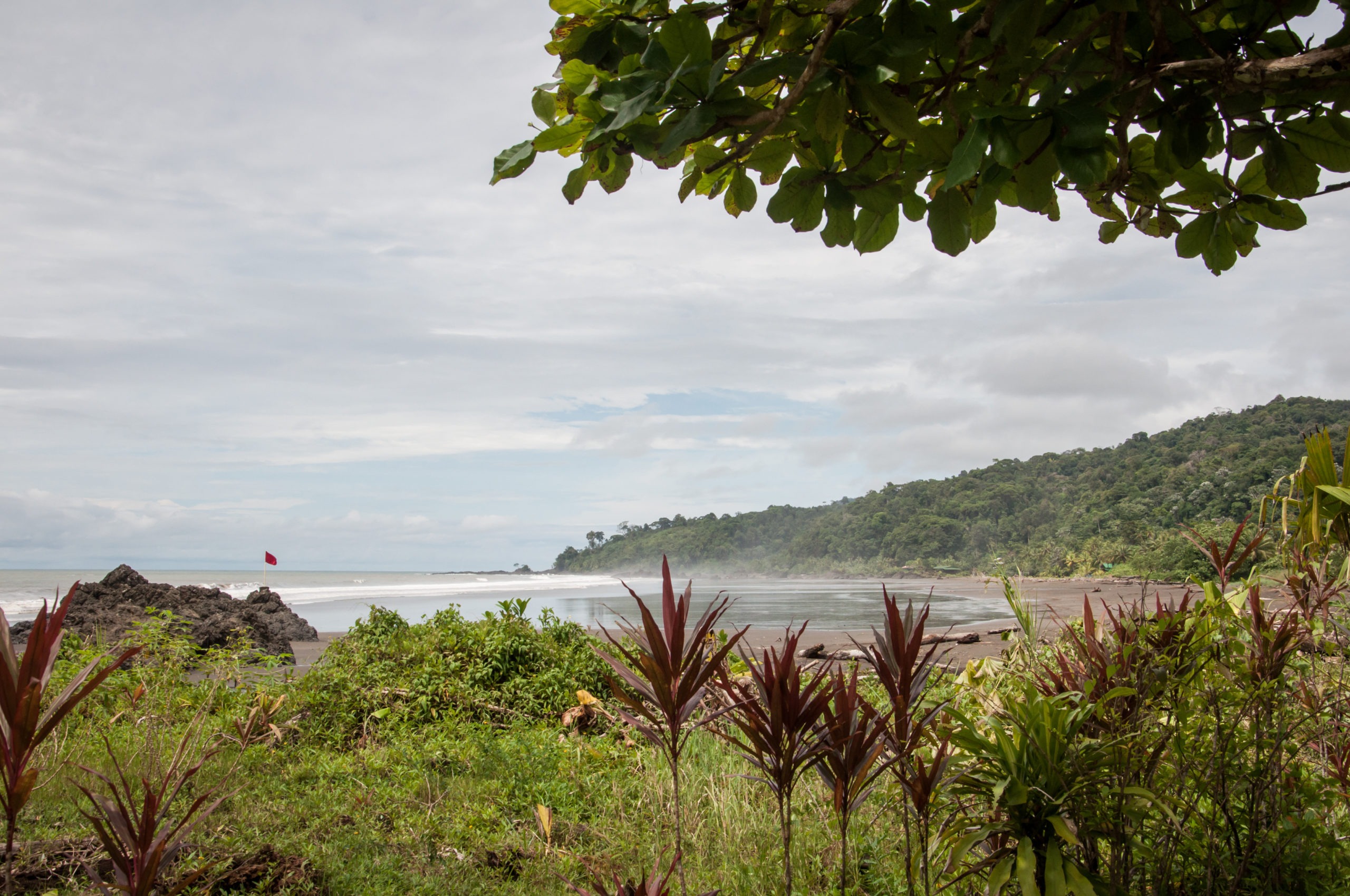 SWISSAID has been active in this region for many years and supports the indigenous population with projects to produce vanilla or reforest forests. An emergency aid project launched on 1 June is now to ensure food security for the population in the Rio Valle and Boroboro regions.     
332 families (247 indigenous people from 8 communities and 85 Afro-Colombian families from the Rio Valle region) receive food aid, a total of 1495 people (724 women and 771 men). 325 bags of food such as cereals, vegetable proteins, oils and other products will be delivered by the end of June.   
A particularly worrying issue in the remote areas is domestic violence. Due to the curfew, an increase is noticeable. Therefore, support for affected women in the region is part of the emergency aid project. 500 women are being sensitised to the issue so that they know where to get help in an emergency. In addition, 25 women trained in the subject support and accompany the victims of domestic violence. 
Guinea-Bissau, June 2nd
Improvised market in Bissau  
The "Caracool" market in Bissau has been temporarily moved to another site. The new, larger location seeks to avoid large gatherings of people in confined spaces. The population of Guinea-Bissau is complying with the government's recommendations and using the newly installed handwashing facilities. Nevertheless, the number of cases of Covid-19 is steadily increasing. Several NGOs and the Ministry of Health are continuing their fight against the spread of the virus.
Inde, May 28th
India extends curfew
The curfew imposed in India at the end of March was extended again last week and will last at least until the end of May. 1.3 billion people are affected by severe restrictions, pushing the poorest sections of the population to the brink of starvation. Small farmers are unable to harvest and have no opportunity to prepare for the coming growing season.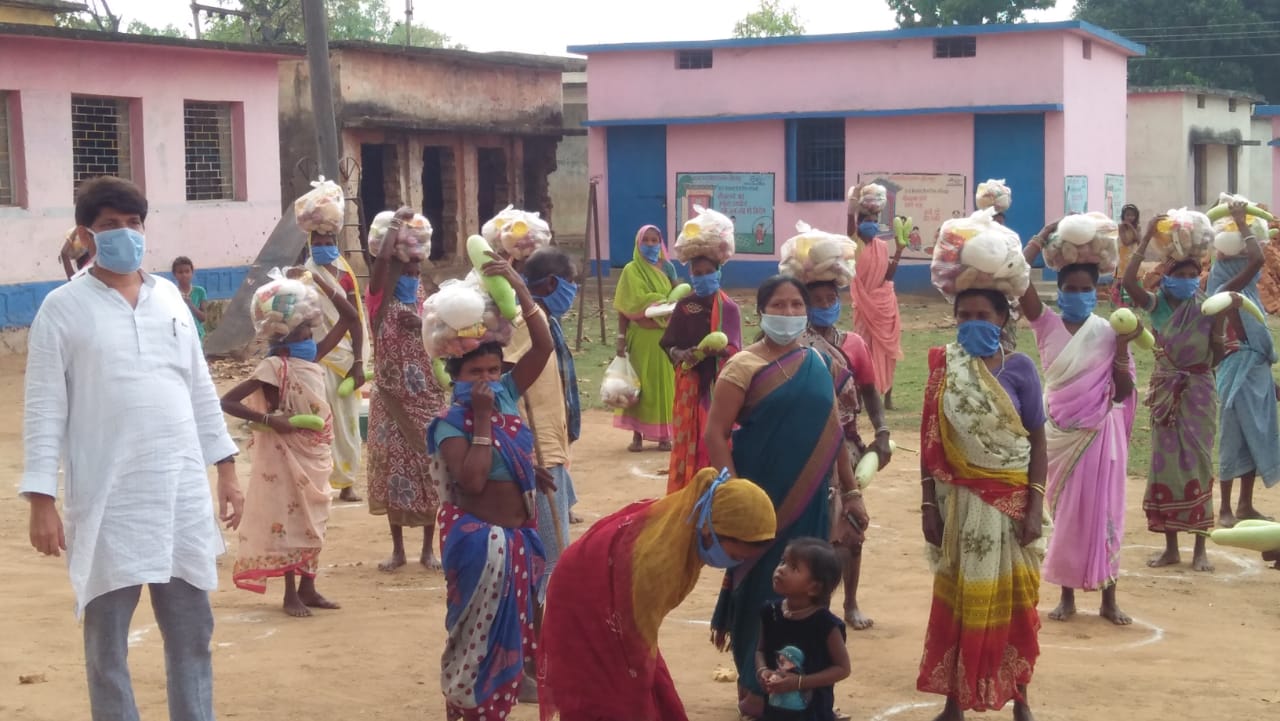 With three partner organisations, the worst is being prevented in 120 villages in the Marathwada region:   
 In May and June, urgently needed

food

is distributed to 1735 families and 300 single people.  

 

525 single women farmers receive seeds, organic fertilizers and a small financial

support

for sowing. This will enable them to harvest after the rainy season. 

 

2115 families from the project region will receive face masks, soap and hand washing powder, which will be sufficient for the months of May and June.

Awareness creation

on

Covid-19 protection measures is being carried out in 120 villages. 

 

Four villages facing acute water shortages are being supplied with

water

. A tanker truck will drive to the villages twice a day for a month, 800 families will benefit. 

 

Women who experience

domestic violence

are supported. In 80 villages, local employees provide direct support. For all 120 villages, counsellors are available around the clock by telephone in counselling centres. 



The aid measures are coordinated with local administrations. This ensures that particularly vulnerable people do not fall through the safety net and that no duplication of effort occurs. 
Tanzania, May 26th
SWISSAID Tanzania participates in the fight against the virus in Tanzania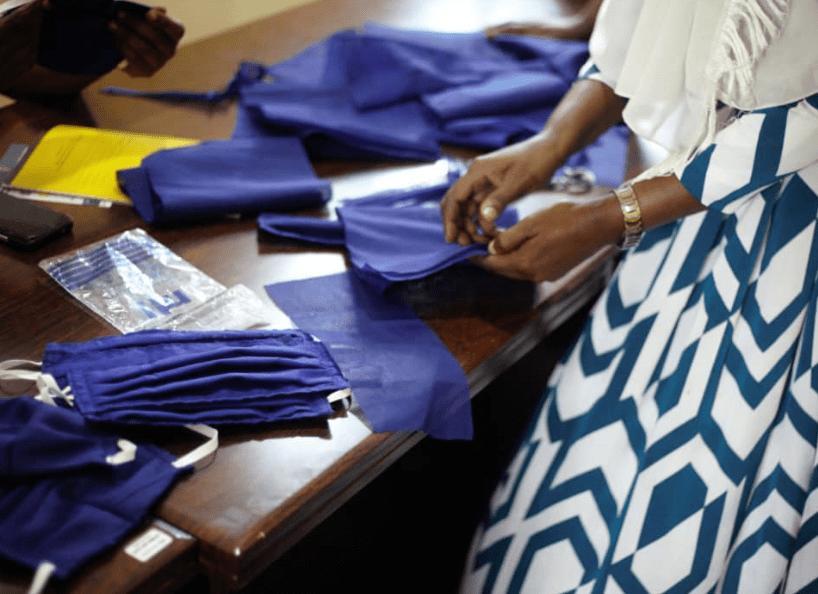 The outbreak of the Covid-19 pandemic has triggered an unprecedented crisis with severe humanitarian, health and socio-economic consequences. To respond, SWISSAID Tanzania and Voluntary Service Overseas (VSO) have partnered to set up a Covid-19 Emergency project implemented in collaboration with the Small Industries Development Organization (SIDO), while closely coordinating with the Regional Disaster Management Teams.  Primarily focusing on the regions of Mtwara and Lindi in Southern Tanzania, this emergency project endeavours to:
(1) sensitize rural communities to prevent the spread of the virus though informative posters, radio talks and further community outreach;
(2) support local preventive solutions and ensure access for marginalized populations through skills development in soap and masks production, as well as installation of hand washing stations;
(3) contribute to the coordination and implementation of  the Tanzania Civil Society's Results Based Action Plan on COVID-19 Interventions, developed and co-implemented by more than 200 Civil Societies Organizations, aiming to systemize and standardize CSOs' engagements. 
Colombia, May 25th
Colombian indigenous peoples defend their territory against Covid-19
More than 380 checkpoints and 9000 people regularly inspect the territory of Cauca, Colombia. In this region with many indigenous reserves, native communities are fighting for their rights within the organization Regional Council of Indigenous People of Cauca. During the crisis, they are mobilizing to protect their population.
Chad, May 20th
Emergency aid project in Chad to improve hygiene
The Chadian state has taken a number of measures to contain the spread of coronavirus. These include banning gatherings of more than 50 people, restricting mobility in large cities, closing non-food shops and introducing a curfew in Ndjamena, which has been extended to several other provinces and the areas around the capital.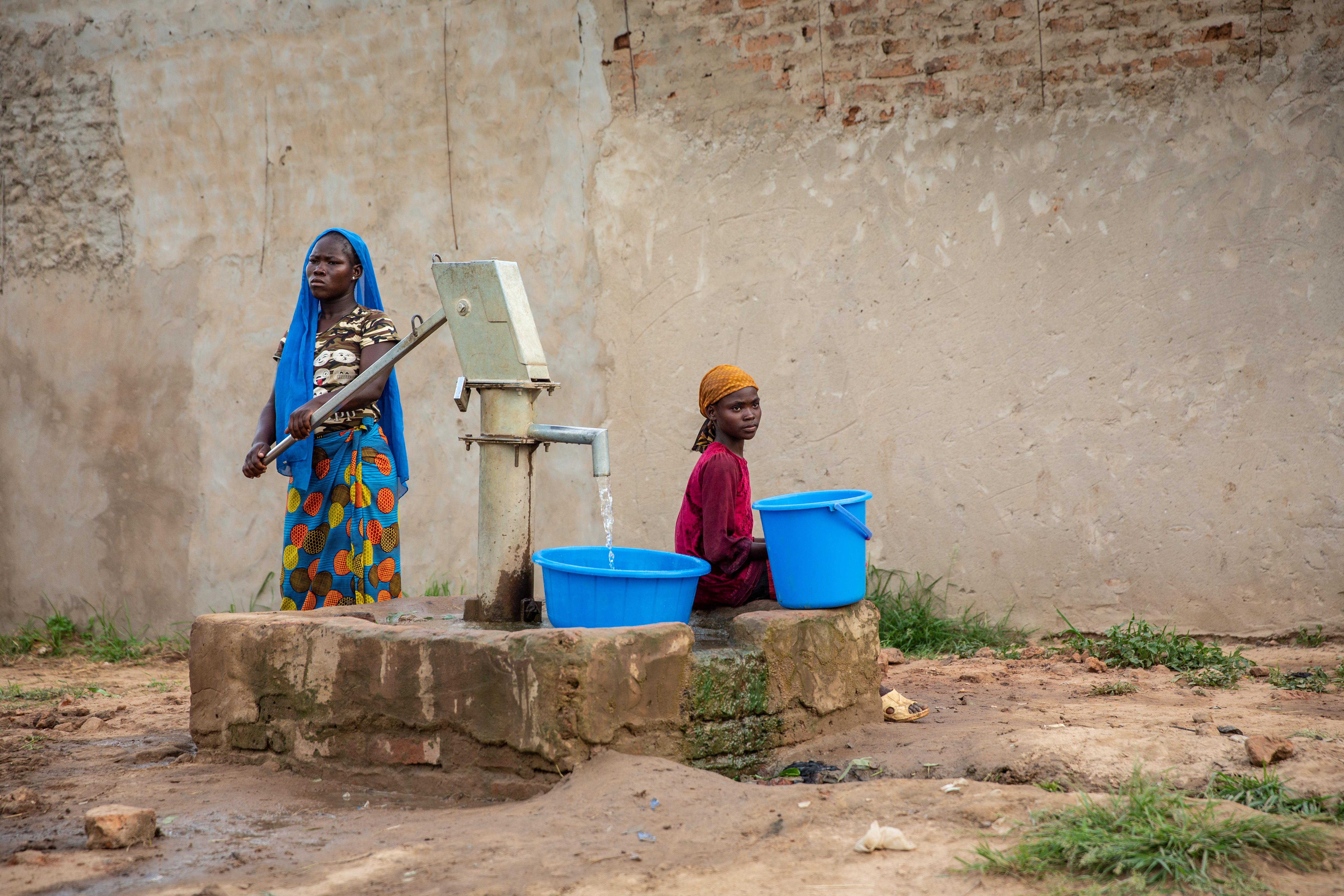 Against this tense background, SWISSAID Chad has now launched a new emergency aid project. It aims to improve hygiene standards in rural regions. In a country where 43% of the population has no access to drinking water and only 10% have access to sanitary facilities, it is very difficult to protect oneself against the virus. This is particularly true in rural areas.
The new project includes awareness raising and access to information on hygiene regulations, the provision of hygiene equipment and support in the procurement of seeds. These emergency measures will be implemented in the provinces of Guera, Logone Oriental and Mandoul. A total of 125,328 people will be supported by the project, 54% of whom are women.
Niger, May 19th
SWISSAID talks with Adamou Moussa Abba
Adamou Moussa Abba, head of the SWISSAID office in Niger, looks back on the turbulent last few weeks in an interview with two members of SWISSAID Geneva. He talks about the impact of the virus on his country, the population and SWISSAID projects.
India, May 18th
"They appeared to be moving mindlessly, hoping some day they would reach home"
After the lockdown, migrant workers in India were left with nothing within a few hours. Without money, without food, without accommodation – and half an eternity away from their families. "They just took their haversack, started walking, not even knowing the route, sometimes getting into fields near police check posts. At 43-44 degrees temperature and covering 35-40 km a day, they appeared to be moving mindlessly, hoping some day they would reach home. Walking in such despair is the way to be hopeful. Among them there were young boys and women, some with children." Gagan Sethi, a member of SWISSAID's local advisory board in India, has written a text that gets under your skin. Read it here.
Niger, May 15th
Travel autorisation for our office in Niger
The coronavirus has forced many development projects to stop or suspend their activities deemed too risky. As the people supported were in rural areas, visits were no longer possible either.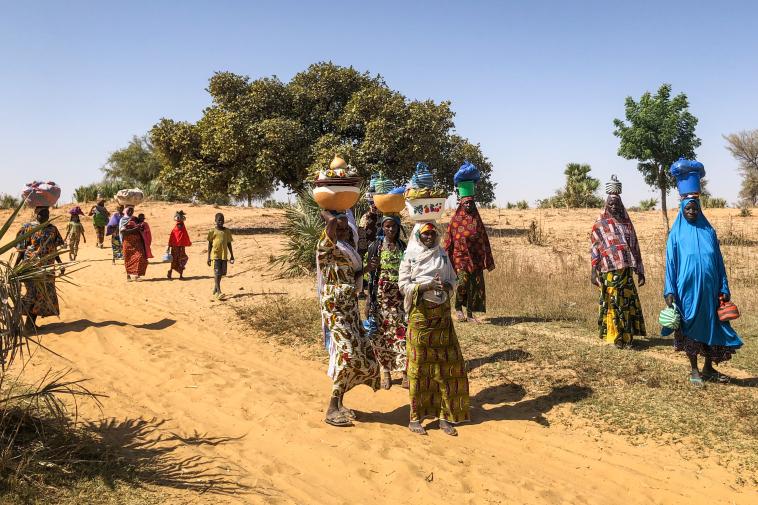 In Niger, SWISSAID's activities can be partially resumed. The team was given permission to travel outside the capital Niamey again. Visits will be resumed this week, taking into account the safety and hygiene measures associated with the pandemic. SWISSAID in Niger believes that it will be able to minimise the delays in its projects caused by Covid-19.
Prevention messages on the radio 
Guinea-Bissau, May 11th
Pandemic spreads in Guinea-Bissau
Despite the deserted streets, the pandemic is growing in the country. A few days ago, it was announced that the Prime Minister had caught Covid-19, along with three other ministers. The country is waiting to find out who will take over for the rest of the crisis.
The analytical laboratory is operating every other day. Over 700 official cases have been reported. In addition, people do not want to be tested because those who test positive are often shunned.
Online Seed Festival
Ecuador, May 7th | "The time has come to integrate ecological and community regeneration practices into your lives, helping to build a more inclusive, healthy and sustainable society."
This is how begins the programme of the "Festival Madre Semilla", the seed festival in Ecuador. Supported by SWISSAID, it is held every year in Quito. In view of the current pandemic, it was decided to continue it virtually.
The festival, which will run until 20 June, opened yesterday. The festival consists of 5 virtual courses and 15 online lectures, all free of charge. How did our ancestors eat, how to cook without waste, the future of the food system through Ecuadorian laws; all these workshops will be given during the festival.
India, May 6th
India: self-help groups for poor families
With the coronavirus pandemic, food prices have skyrocketed in many countries of the South. In India, for example, the curfew has forced communities to buy their goods from traders. The prices were so high that some families could not afford to buy anything at all.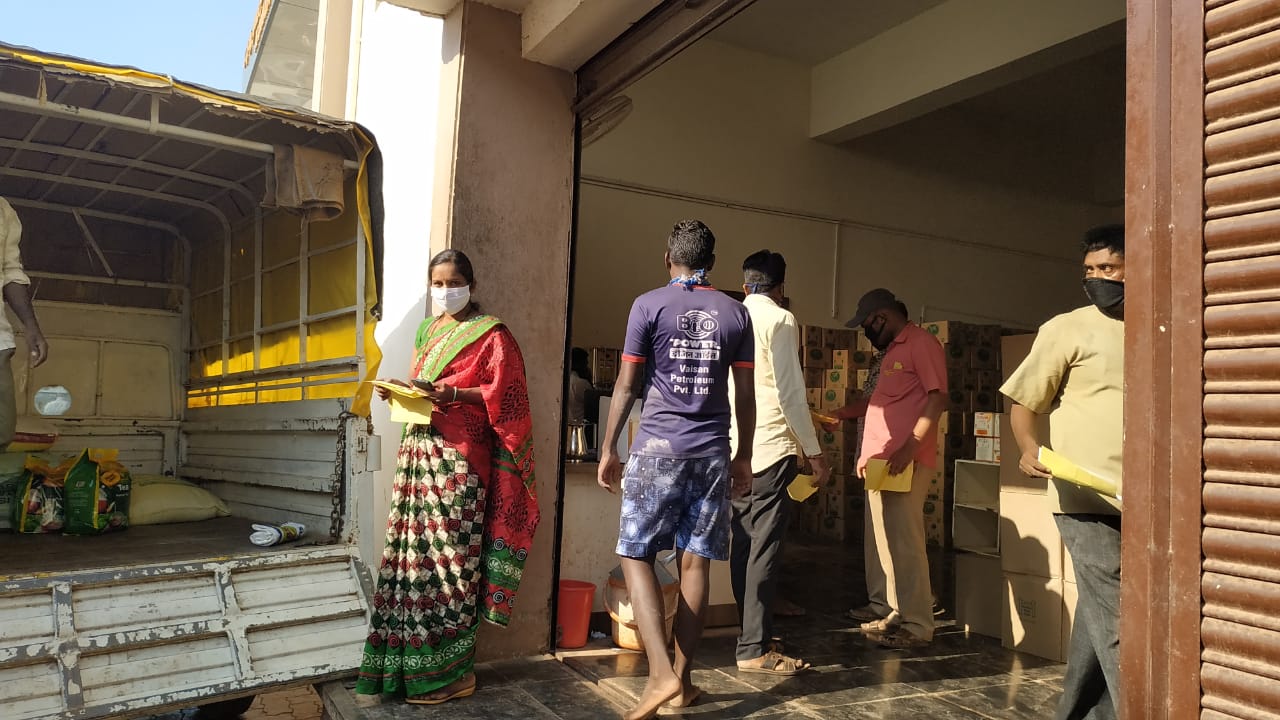 SWISSAID's partner organisation in India, Sahaja Samrudha, therefore decided to buy food in large quantities. This measure enabled them to buy the goods at a normal price and resell them to needy communities. In the first phase, three self-help groups (SHG) in three villages began selling goods such as sugar, onions, pulses, cooking oil and spices. The members of the SHGs each drive to grocery stores with a delivery van to buy equipment and food at wholesale prices.
The groups have now been selling basic necessities for more than 15 days. In Teertha, one of the villages, the local government office (Gram Panchayath) has now provided the SHGs with premises.
Guinea-Bissau, May 5th
Agricultural emergency project for women in Guinea-Bissau
As a result of the restrictive measures related to the coronavirus, women market gardeners in Guinea Bissau have not sold vegetables and therefore cannot feed their families. Moreover, this year, because of the low incomes due to the crisis, the production of the next market gardening season will be much more difficult. In general, thanks to sales, they buy the seeds for the next market gardening season.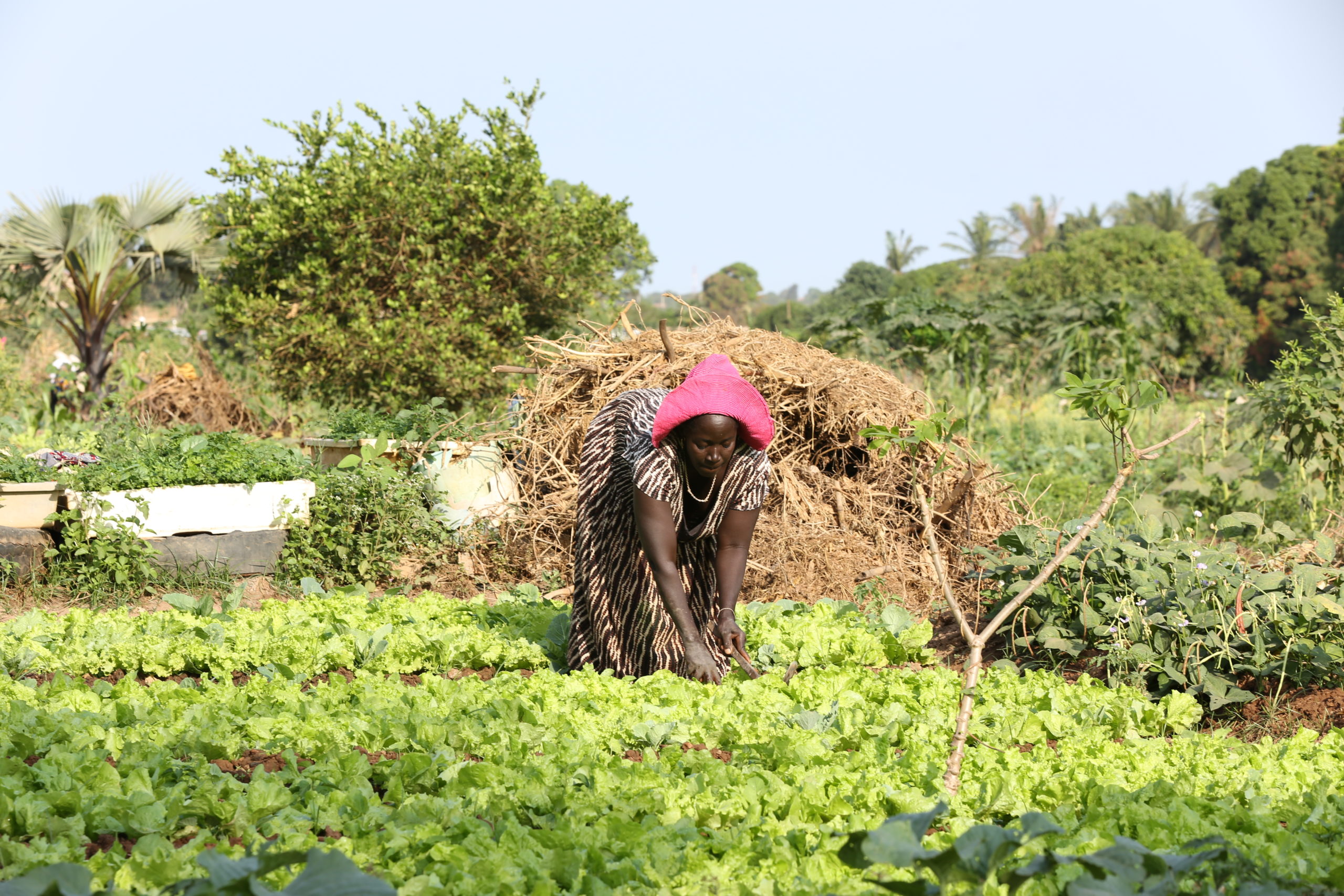 SWISSAID Guinea-Bissau has therefore set up an emergency project to support its main beneficiaries on the outskirts of the capital city of Bissau: women market gardeners and their families. There are 629 of them in four different associations and they are involved in agro-ecological market gardening. Awareness-raising activities, information on hygiene and health prevention rules are planned in order to limit the spread of the disease. Food support and facilitation of market access are also planned.
Colombia, May 4th
An agroecology that works miracles
Geronimo Gutierrez takes us on a tour of his agroecological estate at an altitude of 3000 m in the village of Daita, in the department of Boyaca, Colombia. Supported by a SWISSAID project, the farmer shows us how, thanks to agro-ecology, seed selection and irrigation, his crops have improved and diversified. This is all the more impressive when you consider that in the past these areas were known as "unproductive", where only monoculture potato cultivation and animal husbandry seemed possible.
Improved food security is a key asset in building resilience against coronavirus. In times of crisis, these isolated farmers are often better off than people living in cities, where food is scarce and prices are soaring.
Switzerland, India, May 3rd
SWISSAID Talks with Sneha Giridhari
Manuel Risi, journalist and member of SWISSAID Zurich interviews Sneha Giridhari, SWISSAID's Gender Officer in India. She takes us to the heart of India, reporting on the consequences of the Corona crisis and the challenges for SWISSAID work.
Niger, Mai 1st
New emergency aid project in Niger
"1) Wash your hands frequently with soap and water. 2) Cover your mouth and nose when coughing or sneezing (with your elbow or with a towel, which can then be disposed of in a suitable waste bin). 3) Avoid close contact with people who have cold or flu symptoms. 4) Consult a doctor if you have fever, cough or breathing difficulties. Take people with these symptoms to the nearest health centre."
These prevention messages on good hygiene and sanitation practices were produced as part of a SWISSAID project in Niger and adapted to the coronavirus crisis. As the activities originally planned were no longer possible, the funds were used for activities to counter the further spread of the coronavirus. Examples of additional investments made include the provision of sanitary kits and the creation of prevention messages. This redeployment was necessary not least because cases of Covid-19 infection were detected in the two SWISSAID intervention regions (Tillabéry and Dosso).
The Network of Journalists for Water and Sanitation (Réseau des Journalistes pour l'Eau et l'Assainissement (REJEA)), a long-standing partner of SWISSAID Niger, will be responsible for disseminating the messages. The revised project, which has been adapted to the situation, starts today.